THE STORY OF THE REDS
LIVERPOOL FC SEASON REVIEW 1980's
LIVERPOOL FC - SEASON REVIEW 1989/1990
DETAILS
Narrator: Jim Rosenthal
Production: Chyrsalis TV Productions
Duration: 90mins
. Year: 1990

Liverpool FC Season Review 1989/1990
VHS Video Cassette
Format: PAL
Duration: 90mins
Lable: CBS FOX Sports
Catalogue: VHS2563
EAN: 5013738256354
Release: 1990
LIVERPOOL FC SEASON SUMMARY 1989/1990
FIRST DIVISION
Champions
FA CUP
Semi-final
LEAGUE CUP
Third round
FA CHARITY SHIELD
Winners
MANAGER
Kenny Dalglish
TOP GOALSCORER
John Barnes 28
LIVERPOOL FC - FA CHARITY SHIELD VICTORY 1989
DATE
12th August 1989
VENUE
Wembley Stadium, London
OPPOSITION
Arsenal
SCORE
1 - 0
GOALSCORERS
Beardsley 32
PREVIOUS VICTORIES
1988 1986* 1982 1980 1979 1977* 1976 1974 1966 1965* 1964* (*Shared)
---
LIVERPOOL FC - SEASON REVIEW 1988/1989
DETAILS
Narrator: Jim Rosenthal
Production: World Sports Action
Duration: 90mins
. Year: 1989

Liverpool FC Season Review 1988/1989
VHS Video Cassette
Format: PAL
Duration: 90mins
Lable: CBS FOX Sports
Catalogue: VHS2328
EAN: 5013738232853
Release: 1989
LIVERPOOL FC SEASON SUMMARY 1988/1989
FIRST DVISION
2nd
FA CUP
Winners
LEAGUE CUP
4th Round
FA CHARITY SHIELD
Winners
MANAGER
Kenny Dalglish
TOP GOALSCORER
John Aldridge 31
LIVERPOOL FC - FA CUP FINAL VICTORY 1989
DATE
20th May 1989
VENUE
Wembley Stadium, London
OPPOSITION
Everton
SCORE (FT)
1 - 1
SCORE (AET)
3 - 2
GOALSCORERS
Aldridge 4, Rush 95, 104
PREVIOUS VICTORIES
1986 1974 1965
LIVERPOOL FC - FA CHARITY SHIELD VICTORY 1988
DATE
20th August 1988
VENUE
Wembley Stadium, London
OPPOSITION
Wimbledon
SCORE
2 - 1
GOALSCORERS
Aldridge 23, 69
PREVIOUS VICTORIES
1986* 1982 1980 1979 1977* 1976 1974 1966 1965* 1964* (*Shared)
---
LIVERPOOL FC - THE 1987/1988 SEASON
THE MIGHTY REDS
DESCRIPTION
HIGHLIGHTS OF THE 1987/1988 CHAMPIONSHIP WINNING SEASON,INCLUDING
ALL 90 MINUTES OF THE LIVERPOOL 5 NOTTS FOREST O MATCH

DETAILS
Narrator: John Motson
Production: BBC TV Sports
Duration: 115mins
Year: 1988

The Mighty Reds
VHS Video Cassette
Format: PAL
Duration: 115mins
Lable: BBC Video
Catalogue: BBCV4144
EAN: 5014503414429
Release: 31st Dec 1990
The Mighty Reds
VHS Video Cassette - Reissue
Format: PAL
Duration: 115mins
Lable: Revelation
Catalogue: VHSTBC
EAN: 5013037368598
Release: 4th December 1995
The Mighty Reds / The Great Match
Double VHS Video Cassette
Format: PAL
Duration: 214mins
Lable: Paradox Films
Catalogue: VHSTBC
EAN: 5027180200520
Release: 30th October 1995
CASSETTE ONE
THE MIGHTY REDS
Highlights of the 1987/1988 championship season 115mins
CASSETTE TWO
THE GREAT MATCH
The 1977 European Cup final victory 99mins
LIVERPOOL FC SEASON SUMMARY 1987/1988
FIRST DIVISION
Champions
FA CUP
Runners-up
LEAGUE CUP
3rd Round
MANAGER
Kenny Dalglish
TOP GOALSCORER
John Aldridge 29
---
LIVERPOOL FC - THE 1986/1987 SEASON
LIVERPOOL FC - SEASON SUMMARY 1986/1987
FIRST DIVISION
2nd
FA CUP
Third Round
LEAGUE CUP
Runners-up
FA CHARITY SHIELD
Shared
MANAGER
Kenny Dalglish
TOP GOALSCORER
Ian Rush 40
LIVERPOOL FC - FA CHARITY SHIELD SHARED 1986
DATE
16th August 1988
VENUE
Wembley Stadium, London
OPPOSITION
Everton
SCORE
1 - 1
GOALSCORERS
Rush 88
PREVIOUS VICTORIES
1982 1980 1979 1977* 1976 1974 1966 1965* 1964* (*Shared)
---
LIVERPOOL FC - THE 1985/1986 SEASON
DOUBLE WINNERS '86: ON THE MARCH WITH KENNY'S ARMY
30TH ANNIVERSARY SPECIAL
DESCRIPTION
A feature-length documentary, looking at the incredible double-winning season of 1985-86. In-depth interviews include Kenny Dalglish, Alan Hansen, Jan Molby, Jim Beglin and Craig Johnston. Includes rare archive footage originally kept off screens due to the 1985 television dispute.
DETAILS
Narrator: Clive Tyldesley
Production: LFCTV
Duration: 85mins
Year: 2016

LIVERPOOL FC - SEASON SUMMARY 1985/1986
FIRST DIVISION
Champions
FA CUP
Winners
LEAGUE CUP
Semi-Finals
FOOTBALL LEAGUE SUPER CUP
Winners
MANAGER
Kenny Dalglish
TOP GOALSCORER
Ian Rush 31
LIVERPOOL FC - FA CUP FINAL VICTORY 1986
DATE
10th May 1986
VENUE
Wembley Stadium, London
OPPOSITION
Everton
SCORE
3 - 1
GOALSCORERS
Rush 56, 83 Johnston 62
PREVIOUS VICTORIES
1974 1965
LIVERPOOL FC - FOOTBALL LEAGUE SUPER CUP VICTORY 1986
DATE
1st Leg 16th Sept /2nd Leg 30th Sept
VENUE
Anfield / Goodison Park
OPPOSITION
Everton
SCORE
3-1 / 4-1
GOALSCORERS
Rush 6, 65 McMahon 56 /
Rush 10, 27, 84 Nicol 62
---
KENNY DALGLISH
KENNY: PORTRAIT OF A NATURAL FOOTBALLER
DESCRIPTION
This video charts Kenny Dalglish's path to soccer superstardom.Goal after goal scored for Celtic, Liverpool and Scotland demonstrate why Kenny came to be revered on football terraces around the world. We also share with Kenny, through unique "behind the scenes" action filmed at Anfield during Liverpool's 1985/1986 Double Winning Season, the trials and tribulations of his move from top player to top manager of Liverpool.
DETAILS
Narrator: Bill Paterson
Director: Andy Melvin
Producer: Russell Galbraith
Production: Scottish TV
Duration: 55mins
Year: 1986

Kenny Dalglish - Portrait of a Natural Footballer
VHS Video Cassette
Format: PAL
Duration: 55mins
Lable: Castle Vision
Catalogue: CVI 1071
EAN: 5016500107120
Release: 1986
Kenny Dalglish - Portrait of a Natural Footballer
VHS Video Cassette - Reissue
Format: PAL
Duration: 55mins
Lable: Polygram Video
Catalogue: 0882503
EAN: 0044008825036
Release: 6th Sept 1993
FOOTBALL IN THE EIGHTIES
DIGITAL MAGAZINE EDITION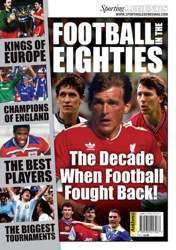 This is a high quality look at the decade when Liverpool dominated the English league and European Cup; Villa, Everton and Arsenal had their share of glory too.
pocketmags
DEVICE: APPLE | ANDROID | AMAZON | WINDOWS | WINDOWS PHONE | PC & MAC